About Me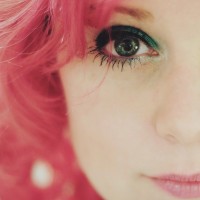 By day, I draft the lay of the land for a Surveying & Engineering firm.
By night, I juggle my time between my creative endeavors.
Photography: My love of photography goes back to my youth. I always had a camera on me and developed at least a roll of film a week. I still always have my camera with me now, but with the digital age there's no limit to how many pictures I can take. I've never had any actual training, I've just been blessed with a good eye. And while I'm by no means a professional, I have recently started taking up requests for photo shoots for people outside of my family. I consider myself a natural light, lifestyle photographer and prefer capturing pictures that require little to no editing. There's something so beautiful about the raw photo to me.
Examples of my most recent work can be found HERE!
Music: I have been addicted to music since birth. My parents were young 20-something's and MTV was a brand new thing and they exposed me to the likes of Ozzy and Led Zeppelin at a very early age. As a result, music is a thirst I can never seem to quench. My music library is larger than the average music lover's and I'm convinced no amount of music will ever be enough. While I'm fairly easy to please where music is concerned, I regret to admit that I've never been able to really get into country.
There was a long time in my life when I even created music, but it has been too many years since I've had access to my piano. One day, I truly hope to get reacquainted with one again.
You can hear what I'm currently listening to by following my Music posts on tumblr!
Reading: Strangely enough, I wasn't always a reader. When I was younger, I loathed books so much so that I'd wait until the day before a book project was due and make my mom read the book to me out loud. I remember a few books I actually read and enjoyed, but mostly the books we were forced to read didn't grab my attention enough to make me want to give anything else a shot. Fast forward to adulthood, I first found enjoyment reading autobiographies and religious or political works. And then I read Twilight. I know a lot of people will knock the Twilight fandom, but it was the first book to make me crave fantasy. And while I've since read books with far superior stories, I can't deny the fact that it was the story that pushed me into becoming a book junkie. I have no shame, I'm actually grateful for it. I've escaped to so many better worlds since and I wouldn't change that for the world.
You can see what I'm currently reading on GoodReads.
Writing: As a teenager, I was very involved in drama. In addition to our school stage productions, I hosted a summer rec council program and even worked with an amateur film group for a while. I wrote stage and movie scripts all the time, but I never finished any of them. I knew I wanted to tell a story, but none of them were worthy of completion and so into a bin of unfinished stories they went. Ideas frequently visited me, but after a while, I just stopped trying to turn them into anything. When I found a love for reading as an adult, my stories started to come alive in novel format opposed to the script format I was familiar with before and so I figured I'd give it a shot. I've since written several short stories, a novel that's in revisions, and two other novels in the works. Traditional publication is something I hope my future holds.
Short stories can be found under the Short Stories tab on this site.
Baking: I remember baking difficult desserts as a teen for school projects and helping my mother bake Christmas cookies growing up, but it wasn't until the past couple of years that I really got into baking just for fun. There is something therapeutic about it for me. I enjoy making desserts that are both delicious and appealing to the eye and it's very rewarding to me to see people enjoy them. My specialties include cookies and pies, but I'm not finished trying my hand at other grand desserts because who doesn't love treats?
Photos of my treats can be found HERE and the recipes for some can be found HERE!