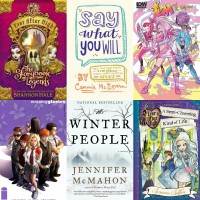 I didn't read nearly enough in 2015; there just wasn't enough time. Lots of people think I sound crazy when I say that because they're happy if they've read 1 book a year, but for me, reading is a necessary fuel for writing and there wasn't enough of it to spawn even a single new word. Of the things I did find time to read, I actually read more comics/mangas/graphic novels than anything. My appreciation for the art and their ability to get a story across in less pages than books really grew for me in 2015. I suspect that will continue to be true in 2016 and I'm excited about it. Below is a list of the things I read, in the order I read them. The books are all clickable and will take you to my GoodReads reviews on them if you're interested in that sort of thing.
Books Read in 2015…
Comics/Mangas/Graphic Novels Read in 2015…. 
Deadman Wonderland, Vol. 1 – 5 by Jinsei Kataoka & Kazuma Kondou
Eerie Cuties: The Comic Strip Collection by Gisele Lagace & David Lumsdon
Eerie Cuties, Vol. 1-3 by Gisele Lagace, David Lumsdon, & Maria Victoria Robado
Garbage Pail Kids: Puketacular, #1
Garbage Pail Kids: Love Stinks, #2
Ms. Marvel – No Normal, Vol. 1 by Willow Wilson & Adrian Alphona
Ms. Marvel – Generation Why, Vol. 2 by Willow Wilson & Adrian Alphona
Ms. Marvel – Crush, Vol. 3 by WillowWilson
In Real Life by Cory Doctorow & Jen Wang
Super Tales of Emotion #1: Swamp of Sadness by J. Salvador
Jem and the Holograms, #1-9 by Kelly Thompson
Jem and the Holograms, Holiday Special by Kelly Thompson
Jem and the Holograms, Outrageous Annual Kelly Thompson
Morning Glories, Vol. 1-5 by Nick Spencer & Joe Eisma
The Stonekeeper (Amulet #1) by Kazu Kibuishi
New Archie, #1 by Mark Waid & Fiona Staples
While I plan to try my hardest to buy very little books in 2016 and actually work on all the books in my already existing TBR pile, I'm always open to suggestions for things I should be reading — especially in the comics department since that's primarily new to me and there's SO many to chose from. Feel free to leave some recs in the comments below!

Share
0
0
0
0
0